A documentary called McDonald's Gets Grilled has been created by an independent film company about us and our food.
This documentary aired on Channel Seven on 2nd April 2012, and investigated McDonald's food in Australia by inviting six everyday Australians, behind-the-scenes to judge for themselves, ask questions and provide their honest opinions about McDonald's®.
A message from Catriona Noble, CEO of McDonald's Australia:
"In recent years, McDonald's Australia has been evolving its menu and cooking methods, and responding to our customers needs, but there is still some confusion around how our food is made. We participated in this documentary to give Australians the chance to ask the tough questions and get honest answers, independently of McDonald's."
"We expect people may want to ask us more questions, or want more information about our Company and our food, so we have set up this page to help."
So if you've got a question, want to find out more about our food or go behind the scenes, you can do exactly that with 'Our Food, Your Questions'. Just click below.
 
Alternatively, here are some of our most frequently asked questions: 
If you can't find the answer you are looking for, please contact us.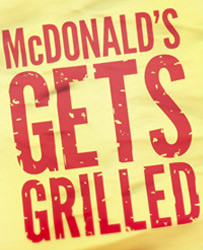 Q: How can I experience for myself the kinds of things the documentary participants did?
A: One of the many things we learned from the 'McDonald's Gets Grilled' documentary experience is that you're genuinely interested in understanding more, as well as seeing for yourself, where our food comes from and how it's made. And we want to show you.
We're really proud of the quality of our ingredients, our supplier facilities and processes and our restaurant preparation. And we're absolutely committed to giving you 'behind the scenes' access so that you can make up your own mind about our food.
That's why we've launched two exciting programs giving you the chance to 'Grill' Macca's® yourself.
Quality Scout Program
We'll be inviting members of the public to become McDonald's Quality Scouts, who will investigate our supply chain and restaurants to see for themselves what the documentary participants did.
Open Doors Program
We've also opened our doors so you can take a closer look around Macca's. Come and take a tour behind the counter at Macca's and see how we make your Big Mac®, French fries Bacon & Egg McMuffin®. Or if you want to delve a little deeper, visit one of our supplier facilities that make the ingredients of our famous menu items.
If you have questions, we're happy to answer them.
Q: Why did McDonald's commission this documentary?
A: Over 1.7 million customers visit us every day. We know we're a popular choice for Australians but we also know that there are many questions about our food.
We're proud of the quality, locally sourced food we serve. We've got nothing to hide. And we thought this would be the best way to show people for themselves the reality around our food – where it's from and how it's prepared.
We wanted to open our doors and invite our customers to see how it all comes together for them – from visiting the local farmers we source our raw produce from, to showing how we make our burger buns and patties and going behind the counters of our restaurants.
Q: Is this an independent production?
A: Yes, it is. The documentary was produced by an independent production company WTFN, and while we were required to work with suppliers and staff involved in the filming, we were not at all involved in the recruitment of the participants, their personal opinions about McDonald's, the questions they asked, the answers they received or the creative outcome of the documentary. 
Q: How do you feel about the final reactions of the participants?
A: What's most important is that the participants are completely honest.  This is about answering many of the questions that Australians have about our food and our practices.  
We've always worked hard to make sure that Australians have the necessary facts to make decisions that are right for them when it comes to visiting our restaurants. This is another way to answer the questions we know exist.
We feel that the documentary shows the reality of our supply chain processes, the quality of our food and the operation of our restaurants and reflects the opinions and perspectives of the documentary participants. It effectively addresses the issues from both sides, which is what an independent documentary is supposed to do.
Q: Were the participants paid?
A: No they weren't.
Q: How did you work with your suppliers and staff?
A: We met with suppliers and staff to ensure they were aware that a documentary about McDonald's food was being filmed, secured access to their facilities for the production crew and ensured that they had on hand the best placed experts from within their organisations available to answer a diverse range of questions from participants.
Q: How was/who funded the documentary? 
A: McDonald's Australia engaged and funded independent production company WTFN to make a documentary about Macca's food. 
That said, it's very important to note that while we were required to work with suppliers and staff involved in the filming, we were not at all involved in the recruitment of the participants, their personal opinions about Macca's, the questions they asked, the answers they received or the creative outcome of the documentary.
Q: Why aren't there more parts of the food preparation process shown in the documentary?
A: With nearly 100 hours of film captured on the shoot, only 44 minutes was able to make it to the final documentary. The producers and editors at WTFN, the independent production company that created the documentary, has done the editing and chose all the elements of the food process which appear in the documentary. 
Q: Did McDonald's pay suppliers to be involved?
A: No, the documentary has been created and made by a third party, independently of McDonald's. No suppliers, or anyone else including McDonald's employees or participants featured in the documentary, were offered money, or any other kind of incentive to participate. 
Q: How were the participants sourced?
A: We were not at all involved in the recruitment of the participants - WTFN sourced the participants independently of McDonald's. The participants represent a cross section of the Australian population with an interest in food and varying opinions about what and where they eat.
Q: Did McDonald's approve the use of these particular participants?
A: We were made aware of the individuals that WTFN had chosen, but all six that appear in the documentary are the six first shown to Macca's.
Q: If McDonald's funded the documentary, were they given any control over content? 
A: WTFN consulted with McDonald's to determine the kind of information from McDonald's that viewers would be most interested in, but developed the content independently.  While we were required to work with suppliers and staff involved in the filming, we were not at all involved in the recruitment of the participants, their personal opinions about McDonald's, the questions they asked, the answers they received or the creative outcome of the documentary. 
Q: Why is the water that the lettuce was washed in dirty and foamy?
A: Fresh water is used to wash the lettuce to remove dirt from the field and any bacteria or micro-organisms found in the soil. During the washing process natural sugars from the lettuce are released into the water, which makes it look foamy.
Q: Is there anything else in the water used to wash lettuce?
A: The water used is the same as the water that comes out of your tap at home. Just as with tap water, a small amount of chlorine is added to the water to keep the water clean and remove any bacteria introduced by the dirt on the lettuce.
This process ensures that the lettuce you eat is clean and safe.
Q: What are phosphates?
A: Phosphates are a naturally-occurring trace mineral present in water and many foods, such as milk, peas and corn, and are essential to life – our bodies need phosphates to function.  They're also commonly used in making many of the foods that you have in your kitchens at home and at the restaurants you visit.
Q: Why are phosphates added to your chicken?
A: Very small quantities of phosphates – approx 0.2% of total product – are widely used to help chicken products retain moisture and tenderness that they lose during the cooking process to ensure that customers get a juicy, succulent piece of chicken every time.  Phosphates are approved for use by Food Standards Australia and New Zealand (FSANZ) and are used in a wide variety of foods including meat and chicken products, baked goods.
Q: Do you add sugar to the fries?
A: We know that you want beautiful, golden brown French fries.  Potatoes already naturally contain sugars that, when cooked, can rise to the surface and result in unevenly coloured French fries that look light in some areas and dark or burnt in others.  
All French fries – either those you'd buy in the supermarket or at a restaurant – are sprayed or washed in a solution containing a small amount of sugar which ensures they have an even exterior colour once they're cooked.  It's not done for flavouring and it doesn't mean you're eating additional sugar.  In fact, total sugar represents approximately .007% per pound of potato, so it's an extremely small part of the finished product.
Q: Is there a lot of sugar in your hamburger buns?
A: Back in 2004, we changed the recipe for our hamburger buns so that they now contain no more than 5% sugar.
Q: What animal welfare standards are in place at McDonald's chicken and beef suppliers?
A: Our animal welfare expectations currently meet or exceed all minimum standards in Australia. We also adhere to McDonald's global guiding principles in relation to animal welfare which express our commitment to ensuring animals are ''free from cruelty, abuse and neglect''.
To ensure supplier compliance with our animal welfare principles, our beef, poultry and pork suppliers' processing plants are annually audited by independent third party auditors from Ausmeat.
Q: What makes this an independent documentary?
A: We have been open and transparent in this documentary. We were not at all involved in the recruitment of the participants, their personal opinions about McDonald's, the questions they asked, the answers they received or the creative outcome of the documentary. WTFN have made a number of independent films and documentaries. They have a solid reputation for professionalism and providing genuine and honest content in the films they produce. The participants ask the tough questions that are on the minds of many Australians and get honest answers, completely independently of McDonald's and make up their own minds about what they hear.
Q: Is McDonald's committed to improving the nutritional profile of its food?
A: For more than 10 years, Macca's has demonstrated a commitment to providing choices for adults and children, improving the nutritional value of our food by reducing sugar and salt content across the menu and changing to a healthier vegetable oil. We were the first Quick Service Restaurant to introduce nutrition labelling on our packaging and now also include kilojoule labelling for all of our products on our menu boards nationally. 
You can get ingredient and nutrition information on our website here.
Q: Do McDonald's and its suppliers adhere to government standards or just McDonald's standards?
A: We and our suppliers adhere to both standards.  In all cases, we consistently meet government standards as a minimum throughout our supply chain and food preparation processes.  However, in many cases, McDonald's standards are even higher than those set out by the government.  For example, McDonald's require that all food suppliers undergo independent third party audits.
Q: Why were the test results on the Big Mac® and strawberry shake different to what you state on the nutritional panel?
A: Variations are common in nutritional testing. Laboratory testing will routinely return results within a range, rather than exactly the same result every time. This is normal, in the same way that baking from a recipe results in a slightly different cake each time you do it. McDonald's has a strict protocol for the publication of nutrition information that includes testing multiple samples to ensure our customers get reliable information. Please see below for the full test results.
Big Mac®
Tested for fat content
Results: fat = 9.2grams per 100ml
McDonald's nutritional panel 13.4
Beef Patty
Tested for preservatives - not detected
Chicken McNuggets®
Tested for fat content
Results: fat = 18.7grams per 100ml 
McDonald's nutritional panel 18.1 - slightly high but not dramatic
Strawberry shake
Tested for fat & sugar
Results: sugar = 8.4grams per 100ml
McDonald's nutritional panel 12.1
Results: fat = 2.4 grams per 100ml
McDonald's nutritional panel 2.1 – within experimental bounds