We are always looking for opportunities to improve the sustainability of our business.
New products and practices are being trialled and launched all the time to help minimise the impact of our operations on the environment. In our restaurants, small changes can make a big difference.
---
Reducing energy use
In 2012 McDonald's proudly opened Australia's first Green Star accredited restaurant at Kilsyth in Victoria. The Kilsyth restaurant features many sustainable initiatives including energy efficient lighting and air conditioning, solar panels, rainwater harvesting and the use of recycled concrete and steel. Several of these initiatives are now a part of our standard building design.
A range of external restaurant signage now utilises energy efficient LED technology rather than the standard 240V fluorescent lamps resulting in energy savings of between 50 and 70 per cent per sign.
Where restaurant design and existing lighting systems allow we are installing lux level sensors attached to the dimmer system to control the dining room lighting. The sensors determine the levels of natural light available and adjust the internal lighting accordingly.
Many restaurants are now using the waste heat from the kitchen air conditioning system or absorbing heat from the ambient air to heat their hot water – reducing overall energy consumption by up to 7%.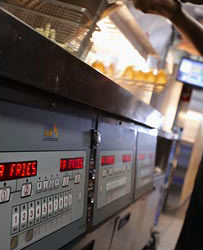 ---
Recycling and reducing waste
Most restaurants currently recycle cardboard packaging and used cooking oil.

A new solid waste management strategy is currently being developed. The strategy will be designed to divert waste from landfill, reduce materials used, increase recycling and create cost savings.

A recycling trial at our Sydney Olympic Park and Parramatta North restaurants commenced in September. Organic waste is separated in the kitchen and sent to Earth Power. All remaining waste including general waste from the dining room is collected as co-mingled waste. The recyclable components are separated at our waste service provider's alternative waste treatment facility (AWT).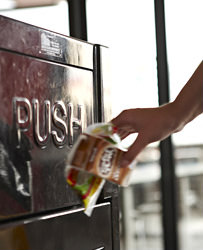 ---
Reducing water use
Some of the ways in which we have been able to reduce our water usage include: 
Rainwater is collected for use in irrigation and toilet flushing. 
Time flow taps are used in all new and re-modelled restaurants. These feature a reduced flow rate and auto flow shut off after seven seconds which saves approximately 100 to 200 litres of water per day.
All new and remodelled restaurants use water efficient tapware and sanitaryware including time flow taps and dual flush toilets;
Water efficient spray guns used for washing up in the kitchen reduce water usage by approximately 60 per cent compared to previous spray guns;
Landscape design guidelines encourage the planting of native and drought resistant plants and utilise advanced stormwater retention methods.
For more detail about our performance in these areas please see the McDonald's Australia Corporate Responsibility & Sustainability (CR&S) Report 2012.